Santander Group and MIT Professional Education are recruiting students and graduates of Polish universities interested in improving their digital skills for 400 scholarships
400 Santander scholarships for students, graduates and professionals from 13 countries. The program consists of 4 specialized courses: Blockchain, Machine Learning, Cloud & DevOps and product design strategies. Applications can be submitted at www.santander-grants.com until December 30, 2020.
The development of digital technology means a revolutionary change in many areas of social and economic life. Dynamic changes are also taking place in the banking sector and require a new approach to many aspects of network security or remote customer service. From a social perspective, this brings benefits to young people with relevant skills in this area.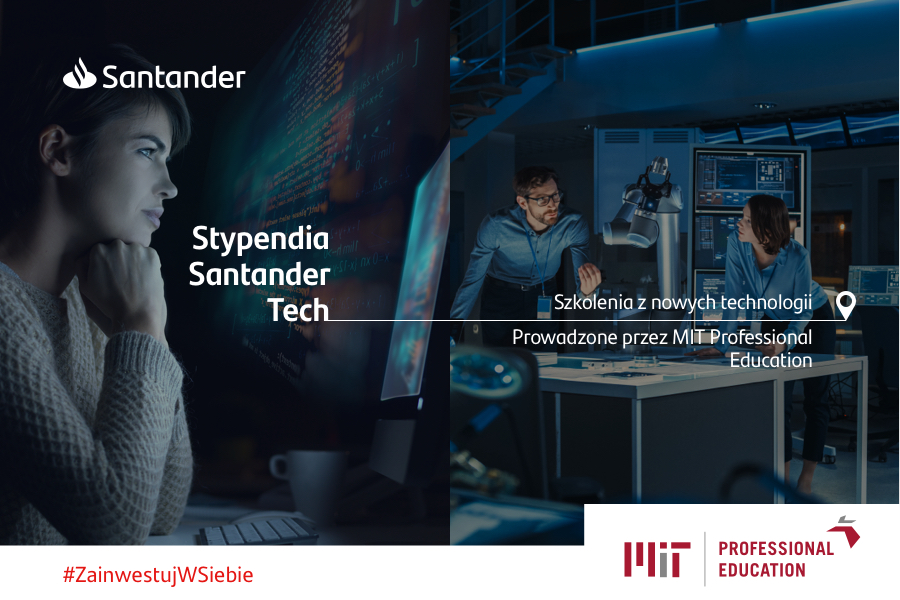 The scholarship program, implemented in cooperation with MIT Professional Education, is a response to the challenge of higher employability of students and university graduates in an increasingly digitally-dominated labour market. The scholarship can be applied for by persons aged 20 to 35 years from 13 countries (Poland, Germany, Argentina, Brazil, Chile, Colombia, Spain, Mexico, Peru, Portugal, United Kingdom, USA and Uruguay).
The scholarships focus on new digital technologies divided into the following four programs: Blockchain, Machine Learning, Cloud & DevOps and product design strategies. Classes will be conducted online exclusively, for eight weeks, and will be available in English, Spanish and Portuguese. Applications can be submitted at www.santander-grants.com until December 30, 2020.
The purpose of the scholarships is to enable participants to gain knowledge and improve their skills in new technologies. The programs available under the scholarship scheme include:
Blockchain: Technological Disruption: a course on blockchain technology, its origins in the financial sector and applications in other industries. Participants of the course will learn the basics of blockchain technology and, among other things, will gain knowledge about the possibilities of its use outside the area of finance and cryptocurrencies.
Machine learning: Technology in decision making: The course provides an understanding of the four stages of machine learning (data analysis, predictive models, decision making and causal reasoning); Participants will learn about the basic features of data sets; the practical use of effective statistical tools to identify and classify data sets.
Cloud & DevOps: Continuous Transformation: Classes focusing on the genesis and future of cloud computing and its impact on technology and business development. Participants will deepen their knowledge of the practical application of key tools in the design of effective software; methods and capabilities related to automation of new product development; implementation of security mechanisms at the software design stage.
Designing product families: From strategy to implementation: The program will help the participants gain knowledge about how product architecture, platform usage and common features can help the organization to launch and manage a product family in an increasingly competitive environment. The program focuses on the interface between design, market dynamics, strategy, R&D and production from the perspective of long-term success and survival of the company.
The fourth industrial revolution which involves automation and digital transformation, is making some of the skills of many employees redundant, while at the same time increasing the need for skills in new technologies. The goal of working with MIT Professional Education is to give students and young professionals the opportunity to immerse themselves in this new reality, which will strengthen their professional development opportunities
We are observing dynamic changes on the labour market. There is a rapidly growing demand for qualified employees with strong digital competencies, which are valued in almost every sector – including banking. COVID-19 has significantly reduced the possibility of professional development for many young people, all the more so we want as many talented students and graduates of Polish universities as possible to take part in the recruitment process for Santander Scholarships Tech | Emerging Technologies Programs MIT Professional Education
The initiative is part of the Santander Group's global activities, worth EUR 100 million, launched to support the fight against the Covid-19 pandemic and its consequences. The Group has already allocated, through Santander Universidades, as much as EUR 30 million to education alone, in order to support research projects, students in financial distress and digital transformation of universities.